Whether you need a Home Network, a Local Area Network [LAN], a Wide Area Network [WAN], a Wireless Local Area Network [WLAN] or a Wireless Wide Area Network [WWAN], we have the equipment and experience to get you started or keep you going! We offer Free Network Consultations for Business and Organizations!
Networking Hardware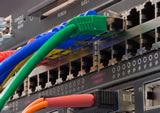 CS Technologies Plus provides a wide range  of products to meet your networking needs.  We have experience installing and maintaining industry leading manufacturer equipment such as Cisco, Linksys, 3Com, D-Link, and Netgear to name a few. All hardware is installed by Certified Network Technicians.  Our Network Technicians can also install the needed network infrastructure such as CAT5e, CAT6, RJ11 or Fiber runs.  We also can install patch panels, junction boxes and terminate ends.
Specializations
Experienced in VPN (Virtual Private Network) solutions
Experienced in Server Installations
Experienced in Wireless Technology
Experienced in Cloud Computing
Networking Software
Focusing on a Microsoft / Intel based solution allows us to provide a customized network solution for nearly any business or organization.  Being a Microsoft Partner enables us to keep on the leading edge of the newest network operating systems and software released by Microsoft. Both sales and service personnel have

experience and certifications required to propose and implement state of the art networks. In addition our training group employs certified instructors on all Microsoft products. We also offer complete back-up solutions along with enterprise virus protection to protect your data and help your organization stay prepared against attack or disaster.
Trained Technicians To Service Your Network

Our technicians are among the very best in Northwest Pennsylvania.  At a minimum the technicians carry a A+ and Network + certification.  Our relationship with Microsoft along with our hardware manufacturers enables our technicians to keep abreast of the latest changes in technology.